Throughout the years the same construction techniques have been used again and again. Just as humans have adapted and changed throughout time, the traditional construction industry needs to do the same. "Just because we've been doing it the same way doesn't mean that's the way we should [in the] future," explained Eric Jacobs, Chief Development Officer for Marriott International, in an interview conducted earlier this year. Along with other industry leaders, Marriott representatives expressed just some of the benefits of choosing to build modular, such as quicker build time, a higher quality build and less environmental waste. Modular construction is the future of the construction industry and if you're still not convinced, here are some more reasons why you should choose to build modular for your next project!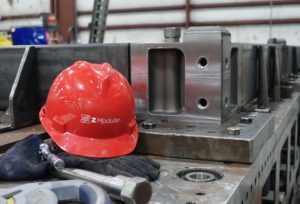 Efficiency
Modular construction is extremely efficient as each individual module arrives onsite preassembled and prefinished, ready to be stacked immediately. Having each module built offsite, in an indoor facility reduces the possibility of encountering weather delays, which reduces your build time significantly. According to Palomar Modular Building, a full-service modular building contractor, modular construction can reduce build time by up to 50% versus the time it would take to complete a project with traditional construction methods.
Environmental benefits
Unlike traditional construction methods, most modular construction is done indoors prior to building on the jobsite. Because most of the construction is completed indoors, in a controlled factory environment, pollution and waste is managed more closely adhering to specific factory pollution regulations.
Quality and design
Each module receives the same amount of time and attention to detail, ensuring that the module is completed according to design standards and specifications. Workers at modular factories are well trained and focus on one specific job as opposed to working on multiple. Modular construction allows for unique designs too, so you don't have to worry that your hotel will look just like every other one.
Better use of labor
Utilizing the factory setting maximizes labor efforts, by working simultaneously on tasks. On site construction labor costs tend to be much higher because workers are responsible for a wider range of tasks and a greater degree of customization. With modular construction, stricter processes and more specialization are in place helping to improve quality.
Safety
When you are on-site using traditional construction techniques, you run the risk and carry the insurance costs of site work. Risks include everything from slip-and-fall injuries to death arise – from using a ladder to install a window on a 5th story, to slippery scaffolds from an afternoon rain. In an off-site, controlled environment, weather is no longer an issue – it's safer and secure from the elements. Plus, items such as window installation can be performed at ground level using dedicated material handling equipment such as catwalks, gantries and overhead cranes, eliminating the need to use expensive scaffolding for any "high" jobs that are required.
Easier renovations and additions
Is your current hotel always at max capacity and you need to add on more rooms to accommodate your guests? With traditional construction methods, your guests will hear (and see) any additions you make to your property for months. Modular construction reduces the time of construction onsite significantly – and avoiding unnecessary eyesores for your current patrons. Keeping noise pollution down results in undisturbed hotel guests, minimizing the risk of losing businesses during renovations.
Do you have more questions on utilizing modular construction for your next hotel project? Find out how Z Modular is The Only Way to Build your next construction project.
Sources:
Benefits of Modular Construction: It's Like Big Legos
5 Big Benefits of Building Modular Hotels
Marriott goes modular in push to build hotels like stacking blocks
Modular Construction: An Evolution in the Development of Modern Hotels
Steel-Framed Modular Construction For High-Rise Hotels: What You Need To Know