The definition of modular construction seems to vary depending on the person you ask. Everyone believes that they understand what modular construction really is, but we have come to learn that many people have been misinformed on this building technique. Having a basic understanding of these terms will be extremely helpful when making decisions regarding future projects.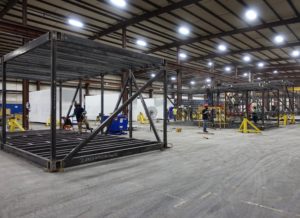 What exactly does "modular" mean?
Modular construction is a project delivery method in which buildings are subdivided into smaller sections, called modules, that can be independently created and then put together to create a structure. Do you remember playing with Legos as a kid? Well, it is like Legos in the sense that one Lego piece is connected to another individual Lego piece and so on, until something much bigger is created. One by one the modules are connected and stacked and soon enough a building has been erected right before your eyes.
What does "prefab" mean?
The term prefabrication is often confused with modular construction. However, the two are very different. Prefabrication is not limited to modules and modular buildings but rather it applies to a larger variety of products. For example, when you buy a new computer, you do not have to assemble it yourself. This is because it has already been prefabricated in a factory setting so that when the consumer buys the product, all they have to do is turn it on.
What is volumetric modular?
Volumetric modular units are prefabricated modules that connect to complete a structure. Units are usually fabricated using steel or wood and are pre-fitted with plumbing, electrical, flooring, drywall doors, windows, etc. Once the units are completed in the factory, they are then transported to the jobsite and craned into position. This type of construction is what Z Modular does. In fact, we go one step further by prefabricating and installing stair systems, elevator shafts, and facades in a factory setting.
What is kit building?
For a kit-built structure, you receive a set of materials and building pieces from a manufacturer that must be assembled together at the site. Kit buildings are typically meant for the consumer and include structures such as a backyard shed. This is great for the DIYer but not ideal for a true modular construction project.
What is temporary construction?
This is a building type that is meant to be used for a short period of time and can be relocated and disassembled and reassembled easily at another location. Modules are often used for temporary buildings such as jobsite construction offices. These modules are easy to manufacture at the factory and ship to the job site. They can then be easily moved to the next job with little disruption to the environment.
Do you have more questions on common terms that are used in modular construction? Reach out to us today and find out why Z Modular is The Only Way to Build.
Sources:
Terms of the Trade – Modular & Prefab Glossary